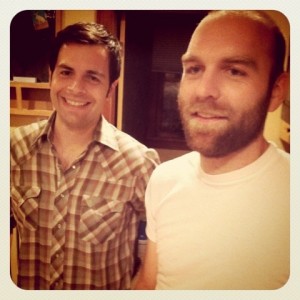 Hi, we're Froz Broz. Some of you know us as Ben and Erik. We're Wisconsin raised boys with cheese in our veins,  since transplanted into Minnesota. For the past six years we've poured our obsession with cooking, supporting local farmers and food purveyors, and a rabid curiosity of flavor into making ice cream. It has provided us with a way to take the inspiration that we got from the local food community and channel that passion into something we could give back and feel proud of.
Since then we've take this inspiration, (and maybe some friendly competitiveness), and challenged ourselves to create new and exciting ice cream flavors on a weekly basis.
After a few years and dozens of flavors, we decided we wanted to figure out a way to bring this to the public – not only to share our ice cream but to promote all of the wonderful farms and people that provide us with the ingredients that make up our ice cream.
Since we can't legally sell our ice cream yet, we give away two pints of the weekly flavor in a random drawing.
We have a huge passion for this ice cream we've created, and refuse to compromise quality for extra profit.  Since we make our own ice cream base – and have many different bases that we use, we have a much more difficult path to getting the licensing require to legally bring our ice cream to market.  Many ice cream makers purchase their base pre-made, which allows them to bypass some of this licensing.
Because making our own base is crucial to the quality and breadth of flavors we create, we have no choice but to get the expensive pasteurization equipment required to get legal with "the man".
During March and April of 2012 we ran a crowd funding campaign on  www.indiegogo.com. Thanks to everyone who donated, we were able to raise $13,000.
We are currently working on raising the rest of the funds we need for this huge undertaking, but in the meantime will continue to give away two pints of our weekly flavor, and if you want to try it, you'll just have to enter.  If you'd like to pre-purchase ice cream to help with our cause, please let us know and we can provide you with more information.
We promise that we'll continue to make the most creative, highest quality ice cream we can, we'll continue to support the most important people in our communities – the local farmers and local business owners.
Keep following us on Facebook, Twitter and right here on the blog for our latest updates.
Thank you!
Ben and Erik